Burgeria
2021 is a thing. Papa games is HTML5
Info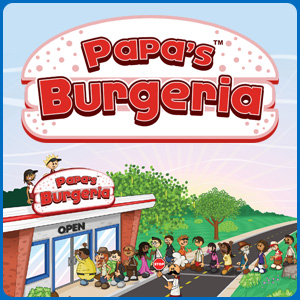 Name: Papa's Burgeria
Developer: Flipline Studios
Category: Strategy
Version: 2.0
Updated: 03/09/14
Includes: Major Bug fixes and removal of all Mochi Ads
Description: In this sequel to the award-winning hit game "Papa's Pizzeria", you're headed back to the kitchen to run Papa Louie's new burger shop! You'll have to take orders, grill burgers, add toppings, and serve the sandwiches to the waiting customers. Instructions: Use your mouse and follow the in-game instructions.

Screenshots
1 / 5
Order station
2 / 5
Grill station
3 / 5
Build Station
4 / 5
Taking orders
5 / 5
Last view of order station
❮
❯
Google Play and the Google Play logo are trademarks of Google LLC. Apple and the App Store logo are trademarks of Apple.